Sublue - WhiteShark MIX White Shark Underwater Booster Snorkel Power Booster | Hong Kong licensed
White Shark WhiteShark Mix is ​​a miniature underwater observation drone featuring simple operation, compact structure and flexible motion. At the same time, it is equipped with deep blue patented underwater propeller, which is easy to disassemble and install, and has strong sports performance. It can use wireless terminals such as mobile phones or tablet computers to realize the control of underwater drones and display underwater images, which is easy to operate; 220V AC power supply or equipped with an external battery pack for easy portability. This product can be equipped with external equipment such as small robots and water quality sensors. It is widely used in underwater entertainment, pipeline inspection, sea cucumber breeding, diving salvage, underwater (river, lake, ocean, etc.) exploration, hazardous area investigation and other application fields.
Features
Double propeller: smooth and free swimming underwater

Powerful: 8kgf strong thrust

Extraordinary speed: 1.5m/s hydrostatic speed

Deep sea unlocking: up to 40 meters deep

Compact and lightweight: a4 paper size, easy to carry

Flexible steering: zero buoyancy free steering

Long battery life: 30 minutes of endurance

Capture the beauty: can be equipped with a sports camera
Configuration
Product SKU :MDY27396

Dimensions: 465 mm * 230 mm * 150 mm

Weight: 3500g (including battery, buoyancy cabin)

Power: 520 w

Speed: 3 knots (1.5m/s)

Working depth: up to 40 meters

Life time: 30 minutes

Indicator light: Meet working status and charging indication

Support: support for mounting GoPro or other sports cameras, support for hanging buoyancy chambers

Single thruster thrust: 4kgf

Single thruster maximum power: 260 W

Charger power: 11.1 V

Rated power: 100 W

Battery capacity: 11000 mAh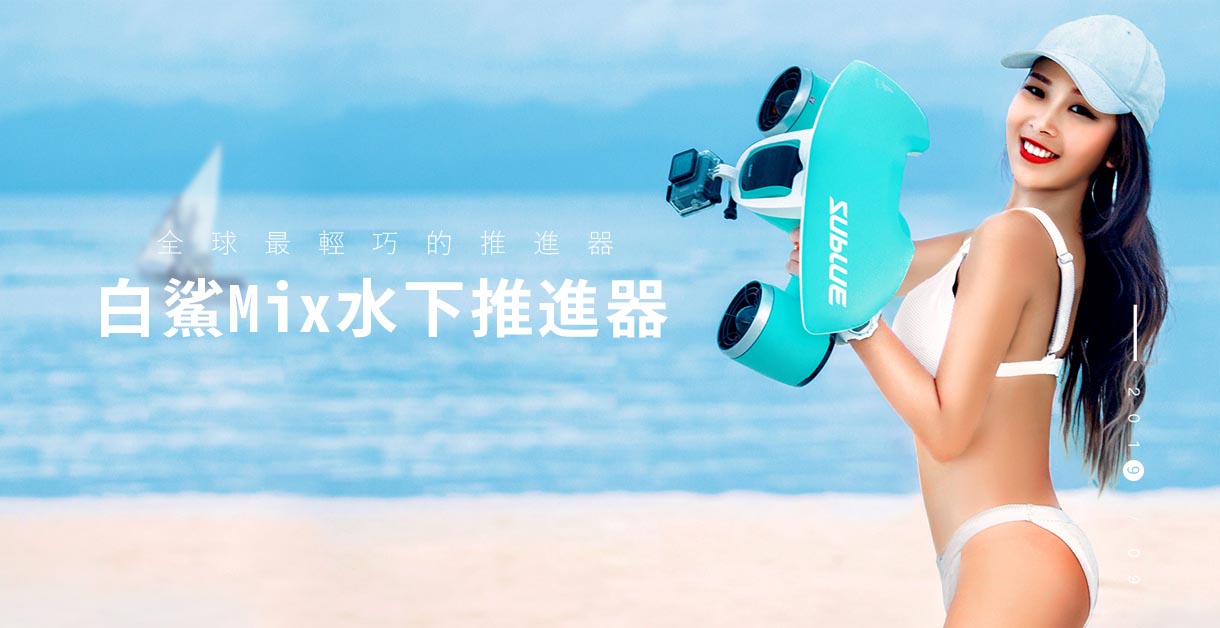 Suppliers and distributors may change packaging,place of origin or accessories without further notice.
Outlet Express HK ensures the authenticity of the products we provide, but we cannot guarantee that customers would receive items identical
to those listed on our website in terms of packaging, place of origin and accessories.

Please contact us if you find our website information is not updated. Buy Sublue - WhiteShark MIX White Shark Underwater Booster Snorkel Power Booster | Hong Kong licensed price in outletexpress .com Hong Kong.In promotion and sale.

Where to buy , information and price, sales discount and wholesale.
Some of our items are even cheaper than Group Buy Offer. Quotation for school and organization and enterprise.
Delivery to Hong Kong and Macau.

This Disclaimer has been translated into English. If there is any inconsistency or
ambiguity between the Chinese version and the English version, the Chinese version shall prevail.